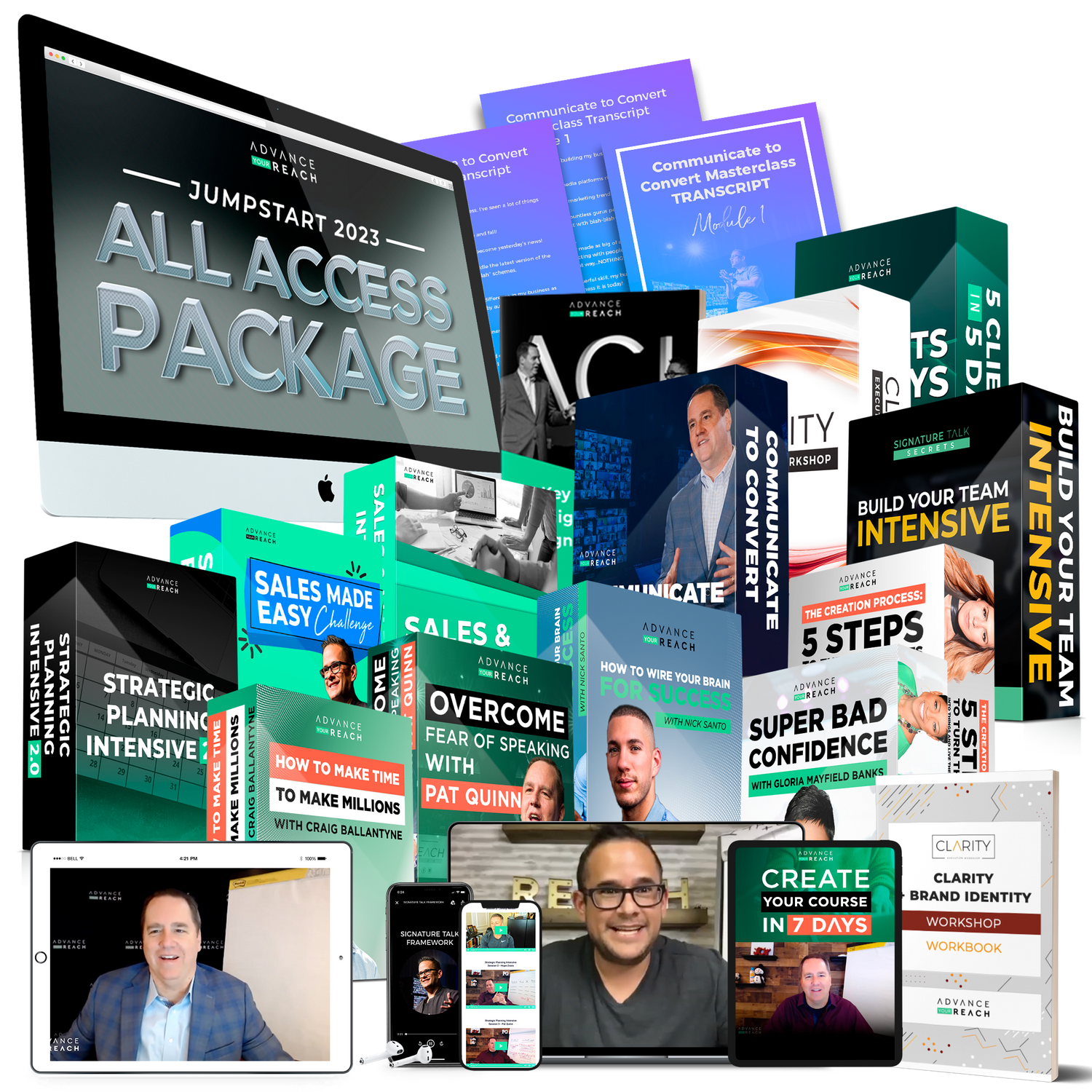 BOOST THE BOTTOM LINE WITH THESE TOP TOOLS!!
3-STEPS TO BETTERING YOUR BUSINESS IN 2023!

Each course inside the ALL-ACCESS bundle is specifically curated to help you develop strategy, master communication, and generate profitable sales and marketing. 
Don't miss the chance to get our BEST business growth bundle at our most affordable price of the year!
Take your business from the best-kept secret to the next big thing:
[Get all these courses at one low price!]
STEP 1: CREATE CLARITY ON WHO YOU ARE AND WHAT YOU DO
+ Clarity Execution Workshop - $4,997 value
+ Clarify Your Brand Identity - $497 value
STEP 2: CONVERT YOUR MESSAGE TO ACTUAL CUSTOMERS
+ Communicate to Convert - $297 value
+ 5 Clients in 5 Days - $997 value
+ Sales & Marketing Intensive 2022 - $2,997 value
+ Sales Made Easy Challenge - $997 value
STEP 3: SCALE AND EXPLODE!
+ Strategic Planning Intensive 2.0 - $2,997 value
+ Build Your Course in 7 Days -$497 value
+ Build Your Team Intensive - $1,497 value
+ Challenge Intensive - $897 value
+ Being an Introvert in Business - $1,497
WE'RE ALSO INCLUDING THESE TOP TALKS TO GENERATE MORE IDEAS FOR YOUR BUSINESS: 
+ Craig Ballantyne: How to make time to make millions - $297 value
+ Nick Santonastasso: How to Wire Your Brain for Success - $297 value
+ Gloria Mayfield Banks: SuperBad Confidence - $297 value
+ Jen Gottlieb The Creation Process: 5 Steps to Turn -Thoughts into Things and Live the Life of Your Dreams  - $297 value
+PLUS 
Get a 1-on-1 call with one of our expert advisors to plan your  best year ever!  - $997 value

*All Access Pass is an annual subscription to our All-Access Courses. This subscription renews annually. This excludes all workshop recordings except Clarity Execution Workshop, and Stage to Scale and excerpts of the Stage to Scale Course. For the complete list of exclusions from the All Access Pass, please see the terms and conditions here